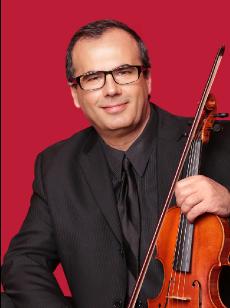 Hektor Qyteti, Artistic Director & Principal Conductor
Michigan Philharmonic Youth Orchestra, MPYO Sinfonia and MPYO Strings

As an accomplished professional violinist, Hektor Qyteti is the Principal Second Violin for the Michigan Philharmonic and was the Associate Concertmaster for the prior seven years. He is also the Assistant Concertmaster of the Grosse Pointe Symphony plays in the violin section of numerous other Detroit Metro area orchestras including symphonies in Dearborn, Warren, Rochester and Pontiac. Prior to his moving with his family to the U.S., he had a five-year tenure as Concertmaster of Korce Philharmonia Orchestra in Albania during which time he performed as soloist on the Mendelssohn, Tchaikovsky, Beethoven and other major concertos.
A dedicated teacher, Hektor maintains a busy schedule teaching violin and chamber music as a private instructor, and he is also on the faculty of Steppingstone School for the Gifted in Farmington, Jerry Luck Studios and Evola Music Center. For 10 years in Albania, he was the Music Director of the Board of Education at the prestigious Korce Tefta Tashko K-12 and High School, essentially the equivalent of magnet/pre-conservatory schools in the U.S.
He received a Performance and Teaching degree from the Academy of Arts in Albania and later continued with advanced studies in teaching at Oakland University.


Joanna Goldstein, Director
MPYO Flute Choir and MPYO Wind Ensemble

Known for her responsive, spontaneous, and lively flute performance, Joanna Goldstein's past as a division I soccer player should come as no surprise. Her love of teamwork and high-energy performance has fueled her many creative collaborations, from orchestral to chamber music, to partnering with composers and dancers. As an orchestral musician, she has performed with the Boston Pops Orchestra and with the Santa Rosa (CA), Portland (ME), and Toledo Symphonies. She currently appears frequently with the Rochester and Battle Creek Symphonies in Michigan.

A founding member of the Boston-based Vento Chiaro woodwind quintet, Ms. Goldstein has performed and taught residencies at Massachusetts Institute of Technology, Providence College, Bunker Hill Community College, and Harvard University. With Vento Chiaro, she coached young musicians as a member of the faculty quintet in residence at the Boston University Tanglewood Institute and won awards in both the Fischoff and Coleman chamber music competitions. Their many composer collaborations include commissions from Michael Gandolfi, Robert Dick, and Justin Casenghino.

Joanna's love of exploring new sound worlds has led to her latest venture, the Stratus Ensemble, a flute and percussion duo focused on commissioning new works that engage audiences and communities. Stratus Ensemble recently received a University of Michigan EXCEL Enterprise Grant to allow them to record their most recent commission by Valerie Coleman. They have become know in the Ann Arbor community for their unique education programs. After their most recent collaboration with Washtenaw Community College, this is what the faculty and students were saying, "More than the expertise and professionalism of their performance, was their awareness that creativity and art are mindsets"…" Great performers are relatively abundant, but excellent inspirers of other's creativity… that's Stratus Ensemble,"

As an educator, Ms. Goldstein helps students connect to their own sense of purpose so they can make a positive impact in their communities, both within and beyond music. She's taught flute and coached groups at Tanglewood, through her private studio, the Boston University Flute Ensemble, and at the private Beaver Country Day School, where she developed a popular school-wide chamber music program.

Joanna holds degrees from Peabody Conservatory and Boston University, and an Artist Diploma from the Longy School of Music. Currently, Joanna is on the faculty at Community Music School of Ann Arbor and will be joining the faculty at Washtenaw Community College In the fall of 2017.

Nan Washburn, MPYO Founder and Advisor

Nan Washburn founded the Michigan Philharmonic Youth Orchestra in 2003 (then called, the Celebration Youth Ochestra). She started and lead the MPYO Flute choir in 2008 and in 2009, she took on the additional position of Artistic Director and Principal Conductorof MPYO directing the Youth Orchestra until June of 2017. In the position of MPYO Advisor, she will continue to be involved with MPYO and, of course, conducting Sinfonia and the Youth Orchestra in their annual side-by-side performances with the Michigan Philharmonic.

Winner of the 2013 American Prize in Conducting, professional division, conductor and music educator, Nan Harrison Washburn is beginning her 19th season as the dynamic and highly acclaimed Music Director of the Michigan Philharmonic. She just finished her her seventh and final year as the Artistic Director and Principal Conductor of MPYO the organization she founded in 2003. In addition to her passion for music education for all ages, she brought to MPYO many years of experience conducting youth, university and professional orchestras across the country.

On the teaching front she has been on the faculty of San Francisco State University, The Conductors Institute at Bard College, New England Conservatory Extension Division, Cazadero Music and Arts Center, San Francisco Community Music Center and the East Bay Center for Performing Arts. Some of the many youth and college orchestras she has conducted include the University of Michigan Philharmonia Orchestra, Acalanes High School Chamber Orchestra, California and Colorado All-State Festival Orchestras, San Domenico School Orchestra da Camera along with numerous other middle and high school festival orchestras.

Nan's past professional music director positions include the West Hollywood Orchestra, Orchestra Sonoma, Camellia Symphony, Channel Islands Symphony and the American Jazz Theater. Her guest conducting includes symphony orchestras of Richmond (VA), Sacramento, Wyoming, Eugene, Berkeley (CA), Marin, Cheyenne, Dubuque, Perrysburg, Firelands (OH), Stockton, Napa Valley and the El Dorado Opera Company in Los Angeles.

Since Nan's arrival in Plymouth in 1999, the Michigan Philharmonic has grown from a community orchestra into a highly respected fully professional ensemble receving 6 ASCAP Awards (she has received a total of 19) and 2nd Place honors in the American Prize Professional Division. Nan expanded the organization further by creating the now 3-tiered Michigan Philharmonic Youth Orchestra, the MPYO Flute Choir and, most recently, spearheaded the Phiharmonic highly-acclaimed commercial CD for children, Magical Tunes & Marvelous Tales. The Philharmonic education programs also have grown under her leadership. The CLASSical Music outreach program has expanded to include the Wayne-Westland Schools. With the creation of our Instrumentorship Program, hundreds of young instrumentalists have had the opportunity to be coached and to play "side-by-side" with our professional orchestras.

Nan studied flute performance at the prestigious Music Academy of the West, received her Bachelors of Music with Highest Honors from the University of California, Santa Barbara and her Masters of Music from the New England Conservatory in Boston. She later studied conducting at the Conductors Institute with Harold Farberman and at the Aspen Music Festival.

Jane Libbing, MPYO Manager

A long time resident of Plymouth, Jane has been actively involved in many areas of the community. After receiving degrees from Chatham College and Eastern Michigan University, she taught for 32 years in Northville, Plymouth-Canton and Wayne-Westland. In 2004, the Michigan Philharmonic hired her as their Education Coordinator to administer the CLASSical Music Outreach program in the schools and to manage the Michigan Philharmonic Youth Orchestra.

Beth Stewart, Executive Director
Michigan Philharmonic

Beth has been the Executive Director of the Michigan Philharmonic since 2008. She holds a B.A. in History and an M.S. in Historic Preservation with an emphasis in Educational programming and management. Beth was the Executive Director of the Plymouth Museum for 17 years prior to joining the Philharmonic staff.